B. Paumgartner at his last concert Jan 27, 1971
Foto: Paumgartner Archiv, Universität Salzburg / Ellinger
The Salzburg festival 1971 had just opened, as the world heard the news of the death of its president Bernhard Paumgartner. On the evening of June 27th - during the premiere of Alban Berg's 'Wozzeck in the Great Festival Hall - the 84 year-old Paumgartner died in Salzburg. He had been in bad health for weeks; it was "the slow fading of a physique, whose inner life had drawn on eight decades of experience, communication and its own original creation, without visibly tiring until the end, without even losing the principle of youth at his patriarchal age: the readiness to begin something new, to awaken with enthusiasm" (Max Kaindl-Hönig). For more than a half century Paumgartner left his decisive imprint on the cultural physiognomy and the importance of Salzburg, city of music, so much so that his ideas and work live on.









Born November 14, 1887 in Vienna, Bernhard Paumgartner comes from a family of artists: His father, Dr. Hans Paumgartner, was a pianist, a composer and a musicologist; the mother was the well-known singer Rosa Papier. After getting his law-degree (1911) and studying music (with Bruno Walter a.o.) Paumgartner worked as solo repetiteur at the Vienna State Opera, directed the Vienna Tonkünstler Orchester 1914 - 1917 and taught sight-reading at the Vienna Academy of Music. In 1917 he moved to Salzburg as director of the Mozarteum. Four decades long - except under Fascist rule - Paumgartner was director of this institution. Together with Max Reinhardt he was one of the co-founders of the Salzburg Festival. He was a judicious and circumspect administrator of the Festival Idea from 1920 on, from the first Jedermann on, for which Paumgartner wrote the stage music together with Einar Nilson. With an unfailing sense for the theatrical he introduced Mozart's early operas to the public in the court of the Residence, was in charge of stage and music, initiated the Mozart serenades and - matinées and made his legendary Mozart interpretation know throughout the world as director of the Mozarteum's Camerata Academica, an ensemble founded by him.


In all these years, Bernhard Paumgartner worked also as professor, writer, as composer, editor, translater and arranger, did research - especially on Mozart - and set the stage for innumberable initiatives for the musical life of Salzburg: The traditional performances of W.A. Mozart's C-Minor Mass at St. Peter's, the "Rappresentazione" at the "Felsenreitschule and later in the University Church, the Renaissance of the Hellbrunn Stone Theater, the "Hellbrunn Festival", the Musica aurea-concerts and the Fine-Arts High-School.

Yet, enumerating all his achievements is not enough to understand the uniqueness of this personality, which lives on in memory like the incarnation of a time, in which intense study and profound knowledge even in unrelated subjects was deemed a matter of course.

Oscar Wilde said: "He who knows only the present, knows naught of the time he lives in." Bernhard Paumgartner knew of the time he lived in, as well as of its historical conditions. Even while still living he personified a piece of music history, which he imparts to us in his Memoirs.

Gerhard Walterskirchen


Translation by
Mag. Hildegard Stalzer,
Dr. John Bomer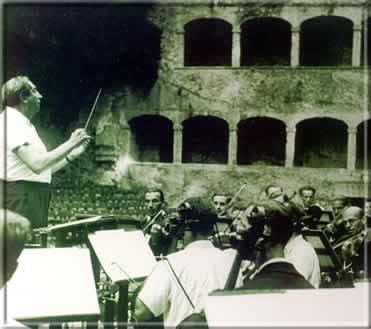 B. Paumgartner during a rehearsal in the Felsenreitschule, 1947
Foto: Archiv der Salzburger Festspiele